Authentic and Yummy Malaysian Food in Wheeling, IL – Interview with Lin Randazzo, Owner of HD Cuisine
Hi, I'm Mari Van Meter with Real People Realty and you've landed on my channel, Flying Home Dragonfly, where we talk about all the great things that we can find locally right here in our own backyard.

Now, one of my favorite finds is HD Cuisine, my new favorite Malaysian restaurant located right here in Wheeling on Dundee, a very simple drive for really almost anyone. You can even reach it easily from the city.
 Now, HD Cuisine is technically a hole in the wall type of restaurant. They have one table inside that seats about eight people, so that if you come in a small group, you may be sharing that table with some other people. They also in the nicer weather do have tables outside, but it's worth your drive to pick up food and take it home. You'll absolutely love it.
 Owner Lin Randazzo and I are speaking today without any masks on, but we are both vaccinated. I just wanted to let you know that we were just doing that so that you could understand us a little better, but you do need to be wearing a mask when you go into the restaurant to pick up any food or to order food.
 Thanks and enjoy the interview. If you do enjoy the interview and you want to see some more great local content, make sure you subscribe below so that you're notified whenever I add anything new. Enjoy this interview.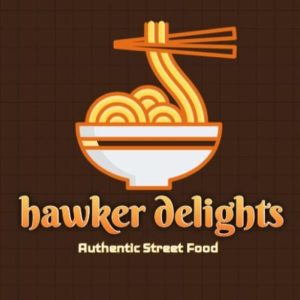 Lin Randazzo:
Hello everybody.
Mari Van Meter:
Hi everybody.
Lin Randazzo:
Welcome to HD Cuisine.
Mari Van Meter:
I'm Mari Van Meter with Fly Home Dragonfly. I have Lin Randazzo with me and Mindy from HD Cuisine, my very, very favorite Malaysian restaurant. It happens to be right here in Wheeling, right in it, our neighborhoods. We really lucked out.
 Hi. Thank you guys for having me. Lin, can you tell us a little bit about why you started this restaurant?
Lin Randazzo:
Number one, I'm Malaysian and I love Malaysian food. I also part of the ethnic group and I am Nyonya. I'm Nyonya and I drove 15 miles on the Dundee Road. I couldn't find Southeast Asian food that is this yummy. I happen to have my chef, who is my brother who has 30 years of experience. He came from a very famous five star spa cruise. He's a sous chef in charge of four or five kitchen. He know not only southeast Asian food, but he also know European and also American food. It's his very for his 30 years experience, his cooking is I truly say five star.
Mari Van Meter:
I have to agree. I do have to agree. Now, I haven't had a huge amount of experience with Malaysian food, but what I've had here is absolutely fantastic. I do know Chinese food and they have actually fantastic Chinese food. But the thing that really surprised me is that I really like Filipino food. There's not really a place right around here that you can get Filipino food. I just want to say that I got the best pancit that I've ever had right here.
Lin Randazzo:
This is such a wonderful compliment from Mari. Yes. We are actually what we do is because we have so many recipes in his head and every weekend he will create a new dish. In order to see our new dishes, a special dish by Chef Tony, we have posted online and Instagram, now Facebook.
Most of the things are really authentic. If some things we cannot get, and is very hard to get, we might be, let's say, if in a curry there's five ingredient, it might be missing one, we actually tell our customer that you are missing one ingredient. We are very honest with our authenticity and so close to home then when I eat, I'm so happy.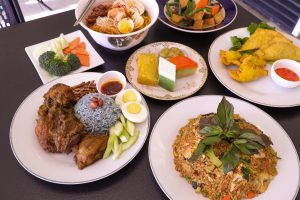 I got a lot of good feedback so far on Yelp. We are at five star rating. Of course, I didn't pay them to give the rating, but it is all given by honest customers. Yes.
 I met Mari when she is also my client, my customer who came to eat and found this is so yummy food, so comfort. She came back to do this interview at no cost, such a big part.
Mari Van Meter:
I'm actually giving them a website too. They just don't even know yet. You'll be able to find the specials there. Actually, after I had the first food here, I said to her, I said, "You need to get to know me because I'm going to be one of your regular customers." Do you remember me saying that? I've been back many times. We stop in and you can also get bubble tea here. If you do like Boba drinks, you can get them here too, because that's something you can't really get really around here as well.
Lin Randazzo:
Fresh fruits. Also we are family owned. Our kitchen crew are all my family member. They are for my brother, my sister, even my mom who is in 80, and she still making homemade barbecue bun and a sweet eight custard. We call kaya. In Peranakan language, it's kaya bun, red bean bun. We have chicken. They are coming up with the vegetarian version is a much vegetable one.
Mari Van Meter:
That's wonderful.
Lin Randazzo:
It's really yummy. I grew up eating it. When we go to the market, we are focused on street food. Every market you go, there was always all this from smoother stir fry to noodle soup, street bun and salty bun.
Mari Van Meter:
One thing that you were talking about, you said something about the street food. I know that a lot of people don't understand what the Hawkers Delight name means. They're like, "What does that even mean?" But it really is very meaningful. Can you kind of tell our audience a little bit about that?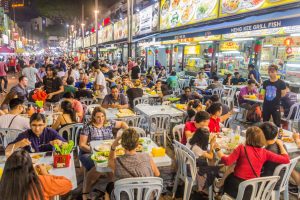 Lin Randazzo:
Hawker is a street vendor, hawker. Like my mother, growing up, she was a hawker of Curry Mee. She had a set up in one of the café. It's like a coffee shop. Imagine yourself going to Starbucks. We have that, but Starbucks is different. They focus on coffee only, and of course some other things, but over there we have noodle soup. We have stir noodle. We have fried fries. We have all many hawkers, so many food in the store, the restaurant for your term.
Mari Van Meter:
It's kind of like a street food restaurant, or sometimes when you have food trucks get together and there'll be like a thing, so lots of different vendors.
Lin Randazzo:
Right. Normally are famous on food truck and all the food truck we gather in the ground and serve all different food. Think about, imagine HD Cuisine able to deliver you guys all this mountain, different food, and our menu is cover seven countries so hopefully it will be a pleasing to taste.
Mari Van Meter:
This is a tiny little place. You can only sit a few people. It's so worth coming and getting take out. Absolutely. Now and they make you feel like family too. I know that I've heard other people call you Auntie Lin. I was like, "Oh, I don't call her Auntie Lin."
Lin Randazzo:
I have a very close friend of my daughter. Her name is Regina and she's Malaysian. She also her friend from Desmond, from Ohio, Columbus, Ohio, drove seven hours to eat our food, our Peranakan food.
Mari Van Meter:
That's awesome. This is Mindy. Mindy takes care of all of the menus. She puts the beautiful menus together. She does the website. If you come in on the weekends, you can order some food with her.
Mindy Tan:
I can let you know all the specials that we have every week. We like to switch out our menu and show all the new foods.
Mari Van Meter:
They'll explain them to you. If you don't understand the names, they don't make you feel uncomfortable about not knowing something. If there was one thing you guys really wanted people to know, because this is going out to our neighborhood right up here, there's one thing you really wanted people to know about you guys or the restaurant, what do you think it would be? That's a hard one.
Lin Randazzo:
Hey, well, I start. I think we want to sell people with every, make it like you come here to eat, feel like home, you know you're home. We want to touch people, everyone, with what they like to eat and also help one. My chef will make according to your need. Let's say you want less sodium or less spicy, less oil, let's say you are vegetarian and you say like, "I cannot eat meat." It's your customer. Not many places you can see that they have the patience to custom make your food. All the things is when you make money, but making money is good, but I think to give my customer the best food is actually better deal.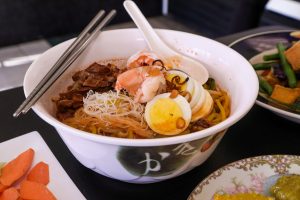 Mari Van Meter:
This is one reason I love them so much is that their service first. We all know that if you give the right amount of service, then you are successful. Thank you guys so much.
Lin Randazzo:
Also in the month of October, we participate in the cancer awareness. In this month, November, we are Alzheimer's. We try to give back to the community. We also welcome groups like school and partnering with one of the Chinese school. We partner with the public schools. Now working in progress on that.
Mari Van Meter:
Doing fundraisers and things for them?
Lin Randazzo:
Fundraise, and we welcome all fundraise.
Mari Van Meter:
The specials that they were talking about and I had the cancer awareness must special. That was fantastic. We love that. But the specials that they're having are going towards those.
Lin Randazzo:
Yes. One we do is on the weekend sales, 10% profit goes to the organization. I was so touched by one of my customers seeing me open in May. She was here every week and then when I found her mother has Alzheimer and I mean, I told her the news that I'm going to do this fundraise, she's so touched. We become very close friends. I can turn around a customer and become my sister or my brother. I so happy that I ever serve the community.
Mari Van Meter:
You guys should come in, HD Cuisine, right here on Dundee and Wheeling. There's a brand new Dollar Tree right next door. My chiropractors just down the way. I think you can maybe buy some, you can go and gamble too next door.
Lin Randazzo:
Our address look at it is very good. It's 27 Huntington Lane in Wheeling. Also the strip mall is the owner. He is very, very nice. He's very, very nice. We want to make this strip mall to be a successful mall.
Mari Van Meter:
It is. It's nice. It's easy to get to. I hope to see you here. Thanks. I would turn it around, but all the people that are in here eating are actually Malaysian right now. I said that that's a very good sign.
Lin Randazzo:
I have a slogan. It's called savory taste in every bite. You can't go wrong with that. Thank you.
Mari Van Meter:
Thanks. Bye guys.
Lin Randazzo:
See you guys!
Mari Van Meter:
See you at HD Cuisine.